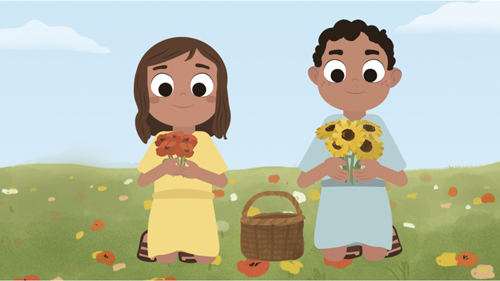 We can't see God, and it can be difficult for a child to understand who God is. But He made everything, including us people! God also made me! Jesus tells us about the great care God has for His creation, and that He looks after everything, even the flowers and the small birds. But He has an even greater care and love for us, and He knew us even before we existed! He loves people the most of everything He has created, and He has a plan for us. God loves us so much that He sent His Son, Jesus, to show us how to live for Him. Now we can show that we love God and Jesus back by doing what we know is right! And when we look at nature around us and see the nice flowers and animals, we can think about God, who made everything and who loves us and wants us to be happy.
More about the studio broadcast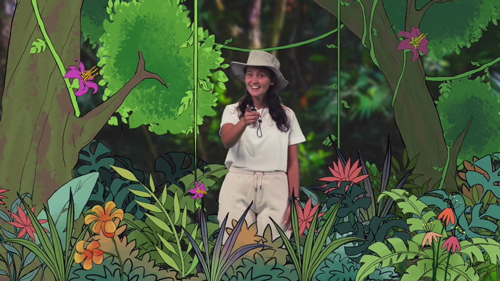 Sandra, the host, is in the Amazon jungle and looks at all the beautiful things in nature – tall trees and small insects, colorful flowers and birds, and lots of other things. She tells us that God made everything and that He also made us and knew us before we were made. He knows us so well that He even knows how many hairs we have on our heads! That's a funny thought, but it shows that God has special care for us. If He loves us so much, we should love Him back, by doing what we know is right. Then God becomes happy, and we become happy ourselves! At the end of the program we get to see an exciting and engaging music video made by children from different countries in Africa, about how precious children all over the world are for God.
More about the animated video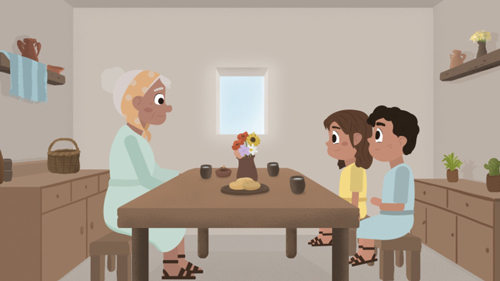 The children in the film go for a walk with Grandma and pick flowers. Suddenly, they see Jesus talking to with a group of people. He tells them about God's care, and that He even looks after the flowers in the field. Then we shouldn't be worried or anxious, either, because God our Father loves us and knows what we need. Back at Grandma's house, they talk about what it means that God is our Father. Grandma explains that Jesus made everything – the earth and the sun and plants and animals – also us. He loves us more than everything He made and has great care for us! The children and Grandma agree to love God back.
Questions for discussion
What does it mean to create something?
Why did God actually create (make) me?
How can I know that God loves me?
Songs that go with the theme
AB 257: Can you count the stars
AB 253: Jesus loves me! This I know
AB 249: Little bird so glad and free
Bible verses that go with the theme
Then God saw everything that He had made, and indeed it was very good. Genesis 1:31
Behold what manner of love the Father has bestowed on us, that we should be called children of God! 1 John 3:1
Look at the birds of the air, for they neither sow nor reap nor gather into barns; yet your heavenly Father feeds them. Are you not of more value than they? Matthew 6:26