Mer om tema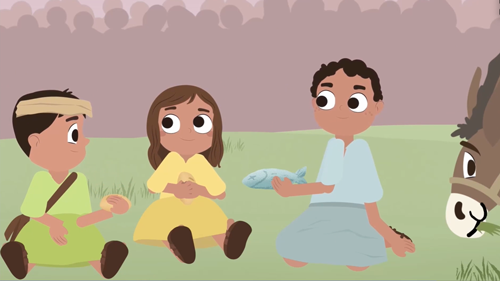 Jesus kjenner deg og bryr seg om deg, og vil at du skal holde deg nær ham og lytte til ham og være lykkelig i ditt hjerte. Han sørger for at du har alt du trenger, og er aldri for trøtt eller opptatt til å hjelpe deg.
I filmen har Jesus og disiplene funnet et stille sted å hvile, da fem tusen mennesker kommer for å høre på ham. Disiplene vil sende folket bort, men Jesus bryr seg om dem og ber disiplene om å la dem få bli. Når det blir sent, blir folket sultne, men det er ingen mat. En gutt har fem brød og to fisk, som han gir til disiplene. Jesus begynner å dele disse ut blant folket, og ved et under er det nok for alle, med mye til overs!
Jesus hadde omsorg for menneskene og ville at de skulle høre hva han hadde å si, så han sørget for at ingen av dem var sultne. Han er den samme i dag, og har omsorg for oss på alle måter, og mest av alt at hans ord kan hjelpe oss og gjøre oss lykkelige.
Songs that fit the topic
AB 253: Jesus loves me! This I know
AB 275: I've got a Savior who always is near
AB 277: Jesus is my Brother
AB 244: Who is always happy?
Questions for discussion
Jesus performed a miracle. Do you know what a miracle is?

Why do you think the people wanted to listen to Jesus?

Why didn't Jesus send the people away, even though He and the disciples were tired?
"… casting all your care upon Him, for He cares for you."

1 Peter 5:7.
"I have come that they may have life, and that they may have it more abundantly."

John 10:10.
"But when the multitudes knew it, they followed Him; and He received them and spoke to them about the kingdom of God, and healed those who had need of healing."

Luke 9:11.
"Then He took the five loaves and the two fish, and looking up to heaven, He blessed and broke them, and gave them to the disciples to set before the multitude. So they all ate and were filled, and twelve baskets of the leftover fragments were taken up by them."

Luke 9:16-17.
"If you keep My commandments, you will abide in My love … These things I have spoken to you, that My joy may remain in you, and that your joy may be full."

John 15:10-11.