More about the animated video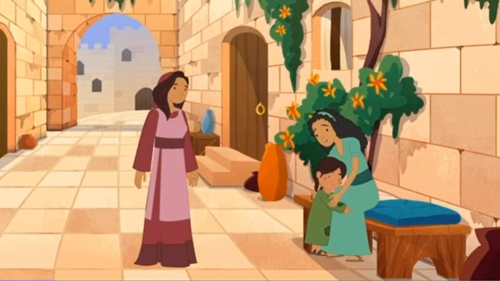 Tabitha (or Dorcas), a Christian woman in Joppa, helps and blesses many people and everybody loves her. But one day she becomes very sick and dies suddenly. Her friends decide to fetch the apostle Peter from nearby Lydda, even though it seems too late.
Peter arrives and is shown many pieces of clothing that Tabitha had made for others. He asks everyone to leave the room, and then prays to Jesus to bring Tabitha back to life. Tabitha wakes up and Peter calls her friends in to witness the miracle.
The news spreads quickly and many people come to faith in Jesus as a result. Tabitha continues to bless the people around her.
More about the studio broadcast
Today's Sunday school comes to us from Germany. The Sunday school children are on a sledding trip in the snow, and two of the children are going to help their mentor make a campfire. While they work, they talk about today's topic and the animated film. What does it mean to be a blessing, to follow Jesus and be a light? One of the grownups on the trip tells them about something he experienced when he was young, which made him want to help and bless the others.
We get to see a music video made by children from all over Germany, and finish up with a little quiz about today's topic.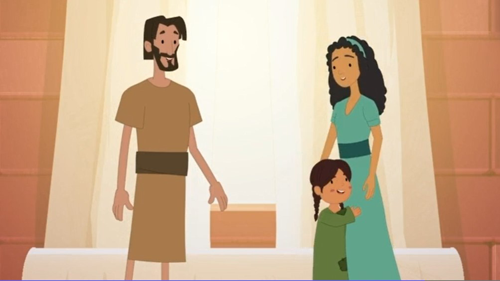 We can learn a lot from the short Bible story about Tabitha (or Dorcas) in Acts 9:36-42. She was a woman who used her abilities to bless people, and she won the hearts of many. So when Peter prayed for a miracle so Tabitha was raised from the dead, it had a powerful effect. Both her life and Peter's faith were a mighty testimony.
Suggestions for topics to talk about:
Being a blessing. We can all make use of the opportunities and abilities God has given us to bless people, just like Tabitha. In that way, their hearts become soft and our lives can be an example. People will see how we take our situations and we become a testimony to God's power and what can happen in the life of a disciple of Jesus. By being a blessing, we are blessed ourselves, but can also help many other people and live to God's glory at the same time.

Faith. Our God is almighty and He can perform miracles. Peter had no doubts when he prayed, and God heard his prayer. Tabitha was raised from the dead, and many people came to faith. What other miracles can God do – in our lives? How can these miracles be an example for other people? What does it mean to have faith?
Bible verses that fit the theme
Let your light so shine before men, that they may see your good works and glorify your Father in heaven.

Matthew 5:16
For even the Son of Man did not come to be served, but to serve, and to give His life a ransom for many.

Mark 10:45
Let each of you look out not only for his own interests, but also for the interests of others.

Philippians 2:4