More about the animated video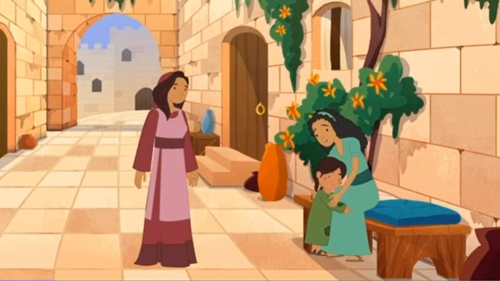 Tabita (eller Dorkas), en kristen dame i Jaffa, hjelper og velsigner mange mennesker, og alle elsker henne. Men en dag blir hun veldig syk og dør plutselig. Vennene hennes bestemmer seg for å hente apostelen Peter fra en by i nærheten, selv om det virker for sent.
Peter kommer og blir vist mange klesplagg som Tabita hadde laget til andre. Han ber alle om å forlate rommet, og ber deretter til Jesus om å vekke Tabita til live igjen. Tabita våkner og Peter tilkaller vennene hennes for å være vitne til miraklet.
Nyheten sprer seg raskt og resultatet er at mange mennesker kommer til tro på Jesus. Tabita fortsetter å velsigne menneskene rundt henne.
More about the studio broadcast
Today's Sunday school comes to us from Germany. The Sunday school children are on a sledding trip in the snow, and two of the children are going to help their mentor make a campfire. While they work, they talk about today's topic and the animated film. What does it mean to be a blessing, to follow Jesus and be a light? One of the grownups on the trip tells them about something he experienced when he was young, which made him want to help and bless the others.
We get to see a music video made by children from all over Germany, and finish up with a little quiz about today's topic.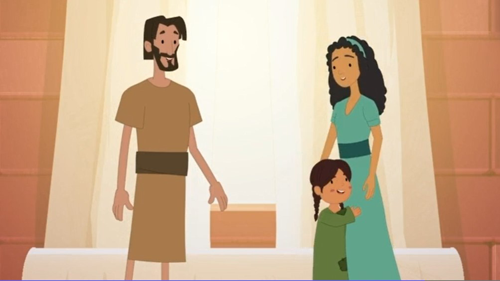 Vi kan lære mye fra bibelhistorien om Tabita (eller Dorkas) i Apostlenes gjerninger 9, 36-42. Hun var en dame som brukte sine evner til å velsigne mennesker og hun vant mange hjerter. Så da Peter ba om et under og Tabita ble reist opp fra de døde, hadde det en kraftig virkning. Både hennes liv og Peters tro var et mektig vitnesbyrd.
Forslag til emner å snakke om:
Å være en velsignelse. Vi kan alle gjøre bruk av mulighetene og evnene Gud har gitt oss til å velsigne, akkurat som Tabita. Da blir deres hjerter myke og våre liv kan være et forbilde. Folk vil se hvordan vi tar det i forholdene våre og vi blir et vitnesbyrd om Guds kraft og hva som kan skje i livet til en Jesu disippel. Ved å være en velsignelse, blir vi selv velsignet, men kan også hjelpe mange andre mennesker og samtidig leve til Guds ære.

Tro. Vår Gud er allmektig, og han kan utføre undere. Peter hadde ingen tvil da han ba, og Gud bønnhørte ham. Tabita ble reist opp fra de døde, og mange kom til tro. Hva slags undere eller mirakler kan Gud gjøre – i våre liv? Hvordan kan disse undere være et forbilde for andre mennesker? Hva betyr det å ha tro?
Bible verses that fit the theme
Let your light so shine before men, that they may see your good works and glorify your Father in heaven.

Matthew 5:16
For even the Son of Man did not come to be served, but to serve, and to give His life a ransom for many.

Mark 10:45
Let each of you look out not only for his own interests, but also for the interests of others.

Philippians 2:4