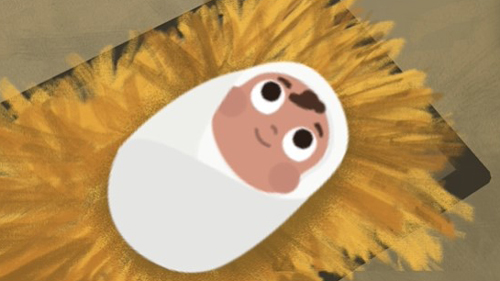 We are really looking forward to Christmas. It's a real celebration. We celebrate Christmas because Jesus was born, and we are very thankful for that. Jesus is the Son of God, and that means He is the Son of the King – but He was not born in a castle, with a crown on His head.
The animated film tells the Christmas story from Matthew 1-2 and Luke 1-2, from when Mary is visited by an angel who tells her that she will give birth to Jesus, the Son of God. We follow Mary and Joseph to Bethlehem, where Jesus is born in a stable. That evening there are some shepherds out in the field with their sheep, who suddenly see an angel standing by them. The angel tells them good news of great joy: The Savior has been born in Bethlehem, and He is the Son of God! The shepherds hurry to see baby Jesus. At the same time, some wise men follow a star that also leads them to Jesus, and they give Him gifts. Everyone understands that this baby is very special – He who will save the whole world!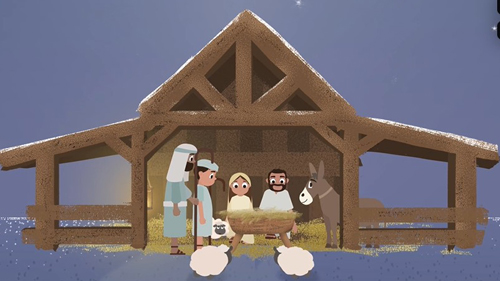 Jesus saw that people could not always be kind to each other or live as God wanted them to. He wanted to help us so badly, and so He came to earth. He became a human being, just like us, so He knows exactly what it's like to be a child like you. He knows that it isn't always easy to do what we know is right, but He was always obedient to God, so He can also show us how, and help us. That is why He is our Savior. He saves us from our sins, and He is our best friend!
So we have good reason to celebrate Christmas and that Jesus was born – the greatest Christmas present of all!
Bible verses fitting the topic
Then the angel said to them, "Do not be afraid, for behold, I bring you good tidings of great joy which will be to all people. For there is born to you this day in the city of David a Savior, who is Christ the Lord."

Luke 2:10-11
"And she will bring forth a Son, and you shall call His name Jesus, for He will save His people from their sins."

Matthew 1:21
For God so loved the world that He gave His only begotten Son, that whoever believes in Him should not perish but have everlasting life.

John 3:16