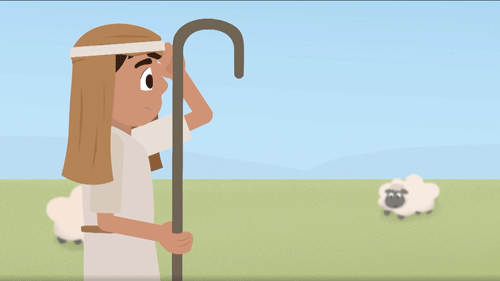 A shepherd is someone who looks after the sheep, so they will be safe and find enough food and drink. He knows the whole flock, even the small lambs, and has special care for them.
The children in the animated film see a shepherd looking after his flock. A little lamb has fallen over the edge of a cliff and can't come up again. The shepherd hurries over, and using his shepherd's staff, or crook, he brings the lamb up safety. It is such a relief when the lamb is safe in the shepherd's arms and is comforted.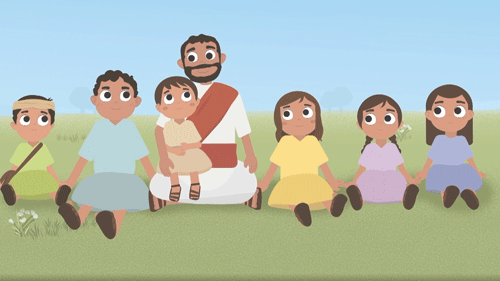 The children move on and see a crowd listening to Jesus. When Jesus sees them, He makes sure that they and the other children come right to the front and get to sit next to Him. Jesus is just like the shepherd: He cares for everybody, and especially for the children. That is why He is called the Good Shepherd, and we can always count on Him to look after us and help us when we need it. He cares for us in every way, and most of all that His word can help us and make us happy.
Questions for discussion
Do you think the shepherd was happy when he saved the lamb?
What does it mean to care for somebody?
How is Jesus a Good Shepherd for us?
Songs that go with the theme
AB 212: Joy, joy, my heart is full of joy!
AB 221: I am Jesus' little lamb
AB 275: I've got a Savior who always is near
AB 228: When it's stormy
Bible verses fitting the topic
I am the good shepherd; and I know My sheep, and am known by My own. John 10: 14
I am the good shepherd; The good shepherd gives His life for the sheep. John 10:11
The Lord is my shepherd; I shall not want. He makes me to lie down in green pastures; He leads me beside the still waters. Psalm 23:1-2