More about the theme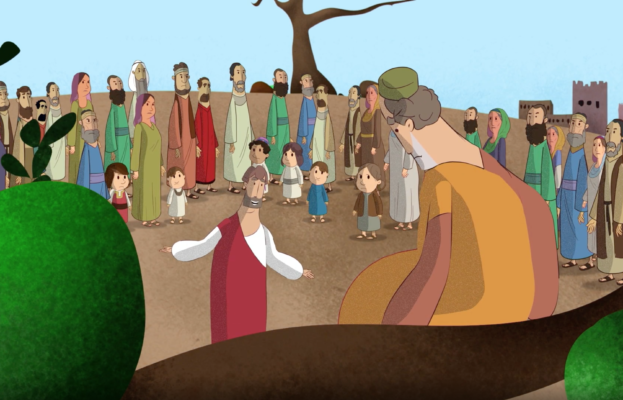 In this topic, the children will learn about Zacchaeus, who was a rather unpopular tax collector. People at that time didn't like tax collectors, because they often cheated people and took their money. But Jesus cared for everyone and wanted to be friends with Zacchaeus..
Being popular didn't mean anything for Jesus. He could give all people hope, because Jesus sees people's hearts, what they think and hope, and He doesn't discriminate. He wants to teach us who follow Him to do the same..
TIPS FOR SUNDAY SCHOOL
You can start the gathering by sitting in a circle and greeting each other. A good tip is that allthe children are greeted by name, either when they walk in the door or when you start the gathering. Then they feel seen and included, and are more open to the message. .
For these youngest children, it is also recommended to make a fixed program layout for the gathering. Something fixed to begin with, then some fixed elements and finally a conclusion involving everyone. The content and specific activities can vary, but when the children are familiar with the pattern and what they can expect in the next few minutes, it often results in a more restful and good atmosphere..
.
Suggested fixed layout:
| | |
| --- | --- |
| 1. Welcome | 2 minutes |
| 2. Short song – one the children know | 1 minute |
| 3. Film | About 5 minutes |
| 4. Conversation, where the children can wonder, ask, and join in.   | About 5 minutes |
| 5. Song with actions – they can learn fun actions   | 2-3 minutes |
| 6. An activity  | Length depends on the type of activity, but this shouldn´t take too long either. |
| 7. Thanks for today! | 1 minute |
| Total length without the activity    | Max 15 minutes |
.
Coloring sheets 
Feel free to use the coloring sheets and let the children draw during the activity. Try to find an alternative for children who don't like coloring in. Alternatives can include a game or physical activity.  
Questions to talk about
Why do you think Jesus especially loves those on the outside?

Why do you think Zacchaeus wanted to meet Jesus?

How can I be on who includes those who feel left out?

 
Luke 19:5: And when Jesus came to the place, He looked up and saw him, and said to him, "Zacchaeus, make haste and come down, for today I must stay at your house." 
Luke 19:10: "… for the Son of Man has come to seek and to save that which was lost."