Mer om tema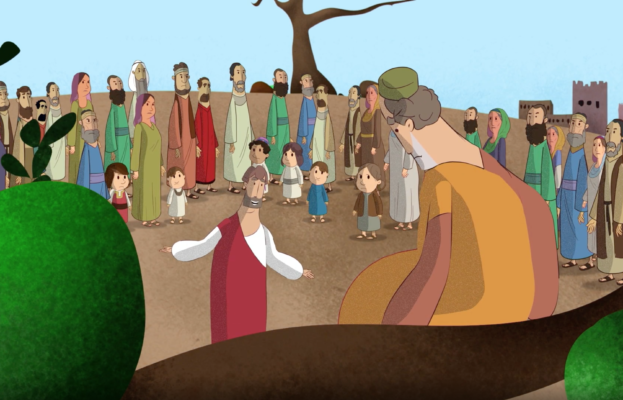 I dette tema skal barna få lære om Sakkeus som var en ganske upopulær toller. Folk på den tiden likte ikke tollere, fordi de lurte ofte penger fra folk. Men Jesus hadde omsorg for alle og ville gjerne være vennen til Sakkeus. 
Jesus brydde seg ikke om å være populær, han hadde håp å gi til alle mennesker. For Jesus ser menneskenes hjerter, hva de tenker og håper. Og han gjør ikke forskjell på folk. Det samme vil han lære oss som følger etter han. 
TIPS FOR SUNDAY SCHOOL
You can start the gathering by sitting in a circle and greeting each other. A good tip is that allthe children are greeted by name, either when they walk in the door or when you start the gathering. Then they feel seen and included, and are more open to the message.
For these youngest children, it is also recommended to make a fixed program layout for the gathering. Something fixed to begin with, then some fixed elements and finally a conclusion involving everyone. The content and specific activities can vary, but when the children are familiar with the pattern and what they can expect in the next few minutes, it often results in a more restful and good atmosphere.
Suggested fixed layout:
| | |
| --- | --- |
| 1. Welcome | 2 minutes |
| 2. Short song – one the children know | 1 minute |
| 3. Film | About 5 minutes |
| 4. Samtale, der også barna får undre, spørre og delta. | Maks 5 minutter |
| 5. Sang med bevegelse, gjerne lære gøye bevegelser | 2-3 minutter |
| 6. En aktivitet | Lengde avhenger av type aktivitet, men heller ikke den for lang. |
| 7. Takk for i dag | 1 minute |
| Total lengde uten aktiviteten | Maks 15 minutter |
Fargeleggingsark
Bruk gjerne fargeleggingsarkene og la barna tegne under aktiviteten. For de barna som ikke liker å fargelegge er det fint å finne et alternativ. Det kan også være en lek eller en fysisk aktivitet.
Questions to talk about
Hvorfor tror dere Jesus er ekstra glad i de som er utenfor?

Hvorfor tror dere Sakkeus gjerne ville møte Jesus?.

Hvordan kan vi være en som inkluderer de som er utenfor?
Luk. 19, 5:Og da Jesus kom dit, så han opp og sa til ham: «Sakkeus, skynd deg og kom ned! For i dag må jeg ta inn hos deg.»
Luk. 19, 10:For Menneskesønnen er kommet for å lete etter de bortkomne og berge dem.