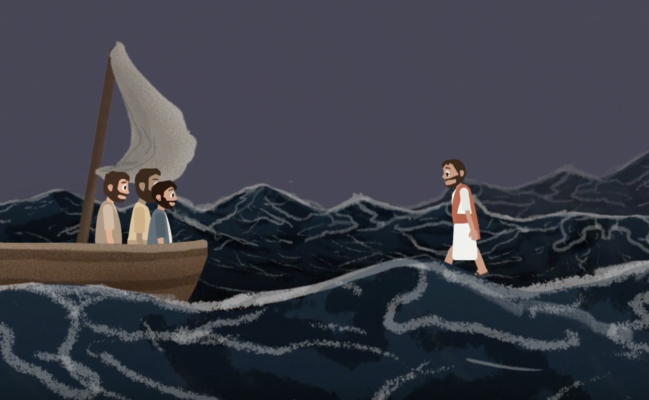 There are many things that can make us anxious and afraid. Things that are unfamiliar or seem threatening. But even though we may encounter things in life that are not so easy or pleasant, we can always trust that Jesus is watching over us.
Jesus can do miracles, and in this story we hear about two of them: First he walked on the water, on waves in a real storm! Then he calmed the storm – and the wind and the waves listened to him.
Jesus has all power in heaven and on earth, and he has special care for us. He is always with us and we can ask him for help. He can help us so that we don't have to be afraid, but instead learn to trust Him. Trusting in Jesus means that we have faith in him, and know that he will be with us, even when things are difficult and perhaps frightening. He is our friend, and hears us when we pray to him.
More about the animated video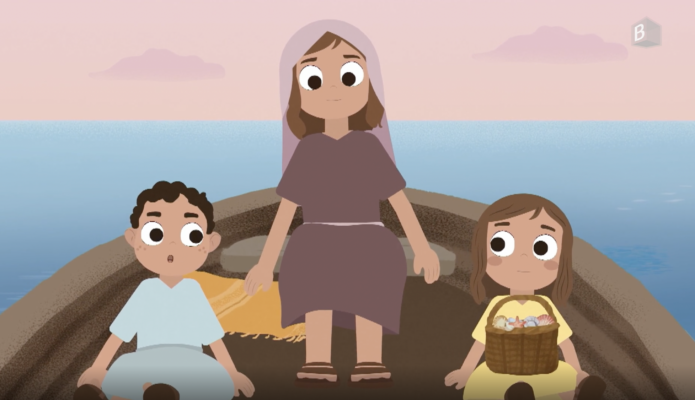 Simon and Sara have been on a boat trip with their parents, but on the way home a terrible storm blows up, and they get very scared. They also see another boat struggling in the big waves. It is Jesus' disciples who are in the other boat, and they are also afraid.
But suddenly they see something strange: It is Jesus, walking on the water towards the other boat. He shouts that they should not be afraid but trust him! When he reaches the boat and climbs into it, the storm is completely stilled, and the sea becomes calm again.
The children are full of excitement, and the parents explain that Jesus can do incredible things – he can do miracles. We can trust Him and not be afraid, because He watches over us!
Questions for discussion
What does it mean to trust someone?
Why can we trust Jesus?
What can we do when we are scared about something?
Songs that go with the theme
AB 213: My boat is so little, the ocean so wide
AB 228: When it's stormy
FMB 216: Little children in God's keeping
Bible verses that go with the theme
But straight away Jesus said to them, Take heart; it is I, have no fear.
Matthew 14, 27
For I, the Lord your God, have taken your right hand in mine, saying to you, Have no fear; I will be your helper.
Isaiah 41,13
God is our harbour and our strength, a very present help in trouble.
Psalms 46, 1