September 20, 2023
Text: Tove R. Nilsen / Photo: BCC Media
---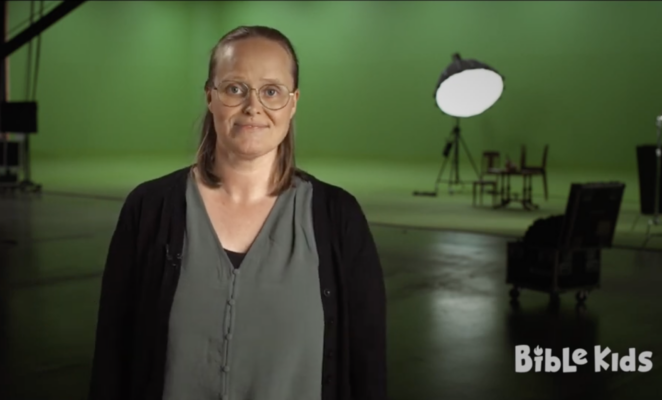 "It is crucial, more than ever, that the Bible's message is brought to life for the next generation of Christians – and that is our responsibility," says editor and film producer Elise Schøll.
Elise Schøll is excited that the new feature film is now ready for screening. It is part of a concept for Sunday schools, where children can take a journey back in time to the Bible story. Sunday schools around the world are currently preparing a festive day for the children, where they will learn about the boy king Josiah and solve the tasks associated with the story.
Why Josiah?
The Bible story of Josiah is perhaps not very well-known, but producer Elise Schøll believes that this particular story has a special message that can be communicated to children.
"Josiah did not have good examples to look up to among those who had been on the throne before him. On the contrary, they had been wicked and unrighteous! And Josiah was only a child when he became king. But still, he became a very special king, a good king, because he wanted to do God's will. He followed his conscience and made good choices, unlike the kings before him. I hope the children are inspired and see that the choices we make are important and that every person can choose for themselves."
The production of the interactive time travel has been underway for just over a year and the producer is very pleased that the concept has been well received by the target group.
"There was a time when a book could open doors to a whole world of imagination and stories," says the filmmaker. "Books can still do that," she continues, "but there's no doubt that times have changed."
Nowadays, there are formats and technology beyond what most people can imagine. Children's lives are increasingly digital, characterized by fast pace and quick impulses.
"Unfortunately, I think this means that for many children, the Bible is not very accessible, something they can't easily relate to. Unless we make it accessible to them, in a way that captivates and involves them,"says the producer with a twinkle in her eye.
The Bible as a living narrative
The team behind Bible Kids has already produced over 60 animated Bible stories, but Elise Schøll felt that something was missing. She and the team want the children to experience the Bible stories in such a way that they say, "Wow, this actually happened! With real people, just like you and me!"
"And when they experience the Bible so vividly, it may be easier for them to relate to the gospel message as well."
So the team continues to produce feature films with a strong belief that they can make the Bible's message living and accessible to the children of this century. And they are already in the process of producing their next film, the story of Queen Esther.
The film about Josiah and the interactive time travel can be viewed on explorers.biblekids.io
Promo: Josiah – true and righteous