More about the theme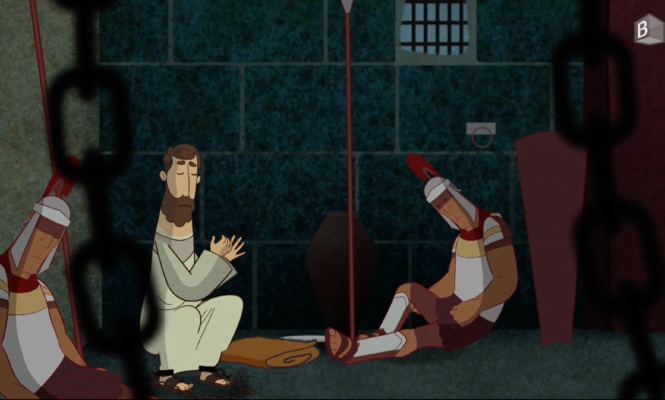 In this Sunday school for the little ones, we hear about when Peter was arrested and put in prison. This happened after Jesus had returned to heaven. It was very dangerous for Peter, and no one knew what was going to happen to him. But Peter believed that Jesus would be with him and look after him, even though Jesus was now in heaven. Because Jesus had promised just this when he said, "I am with you always, even to the end of the age".
While Peter was in prison, an angel suddenly came and helped Peter out of prison. Peter could go home to his friends, completely safe and happy.
Jesus has promised to be with us too, and even if we can´t see Him, we can totally trust Him to be here with us and be sure that He is following along very closely with us. We can pray to Him and He hears us.
Tips for Sunday School
Start the gathering by sitting in a circle and greeting one another. A good tip is to greet allthe children by name, either as they walk in the door or when you start the gathering. This makes them feel recognized and included, and then they will be more receptive.
We also recommend that for this group of the youngest children, it´s a good idea to plan a regular program setup for the gathering. Something you always start with, then some regular sequences and finally a way of finishing up together. The content and specific activities can vary, but the fact that the children know the program and what to expect in the next few minutes often creates more rest and a good atmosphere.
Suggestion for a program:
| | |
| --- | --- |
| 1. Welcome | 2 minutes |
| 2. Short song – one that they know | 1 minute |
| 3. Film | About 5 minutes |
| 4. Conversation, in which the children also get to think, ask and participate. | Max 5 minutes |
| 5. Singing with actions, learn some fun moves | 2-3 minutes |
| 6. An activity | Length depends on the type of activity, but this shouldn´t take too long either. |
| 7. Thanks for today | 1 minute |
| Total length excluding the activity | Max 15 minutes |
QUESTIONS FOR CONVERSATION
How do you think Jesus can look after us when we cannot see Him?

Why do you think Jesus is the world´s best friend?
Coloring sheet
Feel free to use the coloring sheets and let the children draw during the activity. For those kids who don't like coloring, it's nice to find an alternative. This can also be a game or a physical activity.
 "And behold, I am with you always, even to the end of the age." Matt 28:20. Matt 28:20
"Therefore, I say to you, whatever things you ask when you pray, believe that you receive them, and you will have them." Mark 11:24